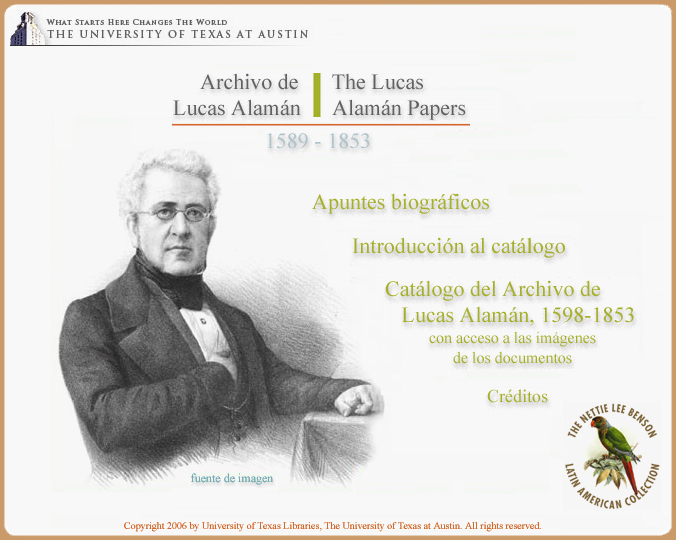 The Lucas Alamán Papers, 1598-1853, were previously published in CD-ROM format in 2002. That edition was supported in part by a grant from the Secretaría de Relaciones Exteriores of Mexico. The project was coordinated by staff of the Nettie Lee Benson Latin American Collection working in cooperation with the Mexican Center of the Lozano Long Institute of Latin American Studies, the Office of the Executive Vice President and Provost of The University of Texas at Austin, and Digital Library Services Division of the University of Texas Libraries (…)
Pablo Max Ynsfran, Catálogo del archivo de don Lucas Alamán que se conserva en la Universidad de Texas, Austin en Historia Mexicana 4: 2-3 (núms. 14-15), 1954 reproduced with the permission of the editors of Historia Mexicana (El Colegio de México).
Apuntes biográficos
Introducción al catálogo
Catálogo de documentos (imágenes)
Monterrey, Conde de. Copia á la letra de las Ordenanzas de el Oficio de Bateojas sacadas a la letra de las originales que se hisieron el Año de mil quinientos noventa y ocho, siendo Virrey de este Reyno el Excmo. Sr. Conde de Monterrey, y Corregidor de esta Ciudad el Dr. Monforte. México, junio 15 de 1598.
8 fs., 21.3 × 30.7 cms.
Copia hecha por Martín Alonso de Flandes, al parecer en el siglo XVII. Las ordenanzas fueron promulgadas por pregonero en julio 17 de 1598, en México. Pub. en las Ordenanzas de gremios de la Nueva España (México, 1921), aunque no de idéntica copia a la presente.
Guadalcázar, Marqués de, Virrey de la Nueva España. [Ordena a los oficiales de la Real Hacienda paguen al capitán Alonso de Valencia treinta y siete ducados y medio por servicios con Sebastián Vizcaíno.] México, octubre 9 de 1615. F.
1 f., 21 × 30.2 cms.
Refrendata ilegible.
Felipe IV. [Real cédula que prorroga la limosna de 150 ducados para medicinas, concedida a los religiosos de la Compañía de Jesús de la Villa de Durango.] Madrid, agosto 12 de 1623. F.
2 fs., 20.8 × 30.3 cms.
Refrendada por Fernando Ruiz de Conti[]or. Toma de razón por Antonio Díaz Navarrete y Reynosa y Félix de Reina.
(…)
http://lanic.utexas.edu/project/lucasalaman/